Description
Based on the F405 2-4S 20A Brushless Flight Controller V4, the F405 4S 20A Toothpick Brushless Flight Controller V5 applies a new ICM42688 gyro and ESC chip that comes with BLUEJAY ESC firmware so it supports bidirectional D-shot. In addition to plug&play ports for the receiver and HD Digitial VTX the same as the V4 board, the V5 board is made with a rational layout for easy solder and preventing solder from jumping to another pad and shorting components.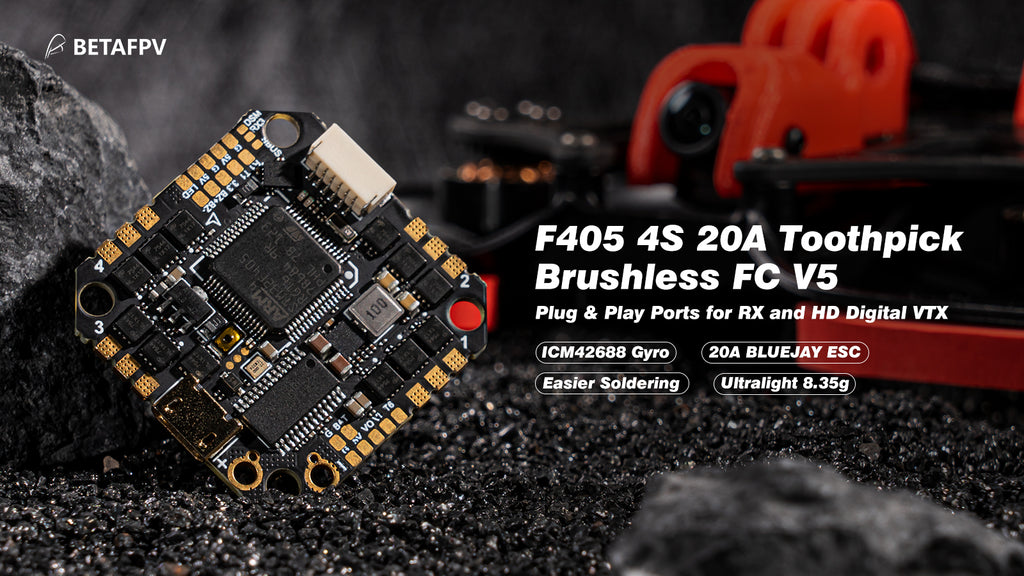 Bullet Point
Not only is the flight controller board made with a rational layout but it is also designed with larger solder pads. It is very easy for pilots to solder external electronics.
The flight controller is capable of handling 20A continuous current and reaching 25A peak current due to high-quality MOSFETs.
Soldering motor wires to pad directly allows lower resistance for more current on motors. Besides, solder pads are reinforced by thick copper and edge plating process, ensuring a solid value and durable use.
Reserving the UART ports layout, UART3 for RX, UART4 for HD digital VTX, UART6 for Analog VTX and UART1 for spare use, it is more convenient for pilots to solder.
Come with a 25.5*25.5mm whoop mounting pattern, this board can be added to both the toothpick drone and the cinematic whoop quadcopter frame like Pavo25 and X-knight 35.


Specifications
Flight Controller
CPU: STM32F405RGT6
Six-Axis: ICM42688 (SPI connection)
Mounting Size: 25.5*25.5mm (M2 Anti-vibration rubber damper available)
FC Firmware: betaflight_4.3.1_BETAFPVF405
OSD: Built-in Betaflight OSD (OSD chip: AT7456E)
Receiver: SBUS/CRSF/DSMX Receiver
BEC: 5V 3A
Built-in current sensor
Weight: 8.35g
ESC
ESC Chip: SILABS EFM8BB21F16G-C
Support D-shot150, D-shot300, D-shot600, Oneshot125, Multishot, PWM
Input voltage: 2S-4S Lipo
Continuous current: 20A
Peak current: 25A
Firmware: G_H_20_48_v0.16.HEX (Default BLUEJAY), BLHeli_S (Optional)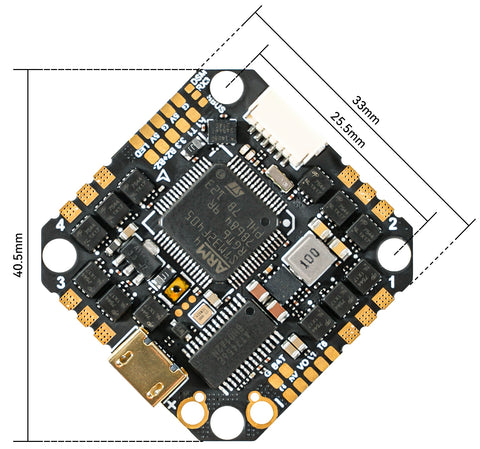 Note: F405 4S 20A FC V5 is available to flash both BLHeli_S and BLUEJAY ESC firmware and it comes with default BLUEJAY firmware. The main difference is that the BLUEJAY firmware supports bidirectional D-shot, while BLHeli_S does not support it. 
Comparison to F405 2-4S 20A V4 FC

We upgraded the F405 2-4S 20A V4 board to V5 by adopting ICM42688 gyro instead of MPU6000 and adding some new features. ICM42688 gyro works great in most cases. Except for the gyro, the V5 board comes with a completely new ESC firmware that supports bidirectional D-shot. The way to connect motors changed and is solderable only on the V5 board. Besides the V5 FC board features high-quality material for stability and durability. The below pictures show the difference between the two flight controllers.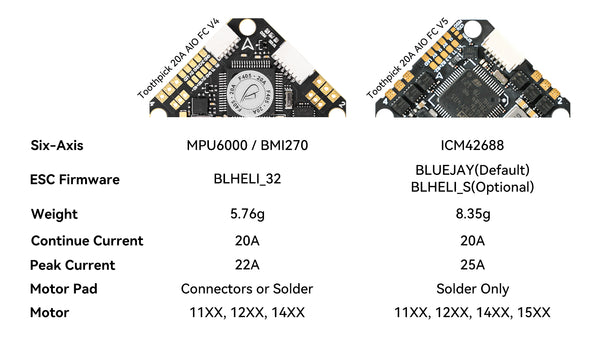 Note: The F405 2-4S 20A Flight Controller V4 with BMI270 gyro will be available for purchase for a period of time.
Diagram for Toothpick F405 20A AIO FC V5
The board integrates 2 LEDs, including the Power LED (Red) and the FC LED (Blue).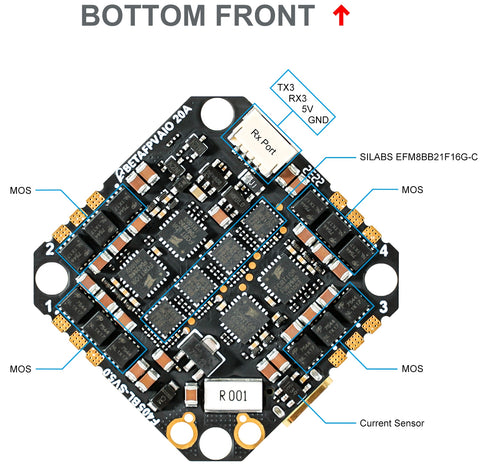 | | | |
| --- | --- | --- |
| LED | Status | Description |
| Power LED (Red) | Solid | Power on |
| FC LED (Blue) | Solid | Motor Armed |
Connecting External RX/HD Digital VTX
F405 4S 20A FC V5 integrates the Plug & Play port for the external RX and HD digital VTX, and there will be a 4-pin connector for RX and a 6-pin connector for HD digital VTX in the package. Thus, we highly recommend pilots use the port to save the solder work.

Package
1 * F405 4S 20A Toothpick Brushless Flight Controller V5 BLHeli_S (ICM42688)
1 * Cable Pigtail (XT30)
1 

* 6-Pin Connector for Digital VTX

1 

* 4-Pin Connector for RX

4 * M2x12 Screws
8 * M2 Nuts 
4 * M2 Anti-vibration Rubber Dampers