Description
Summary
Experiencing super clear and sharper images, stepping into the HD world with BETAFPV Meteor85 HD. Based on the newest Meteor85 (2022), it comes with Walksnail Avatar Mini HD VTX or HDZero Whoop Lite Bundle, bringing conspicuous images and exceptional visuals to your eyes and capturing details that make the footage look as exciting as the flight. Together with 1103 11000KV motors and GF2015 2-blade props that feature strong propulsion, it gives pilots powerful and impressive results. Enjoy an immersive flight experience for freestyle tricks outdoors, and get the perfect shots with the new HD VTX system.

Tons of ExpressLRS items are available now!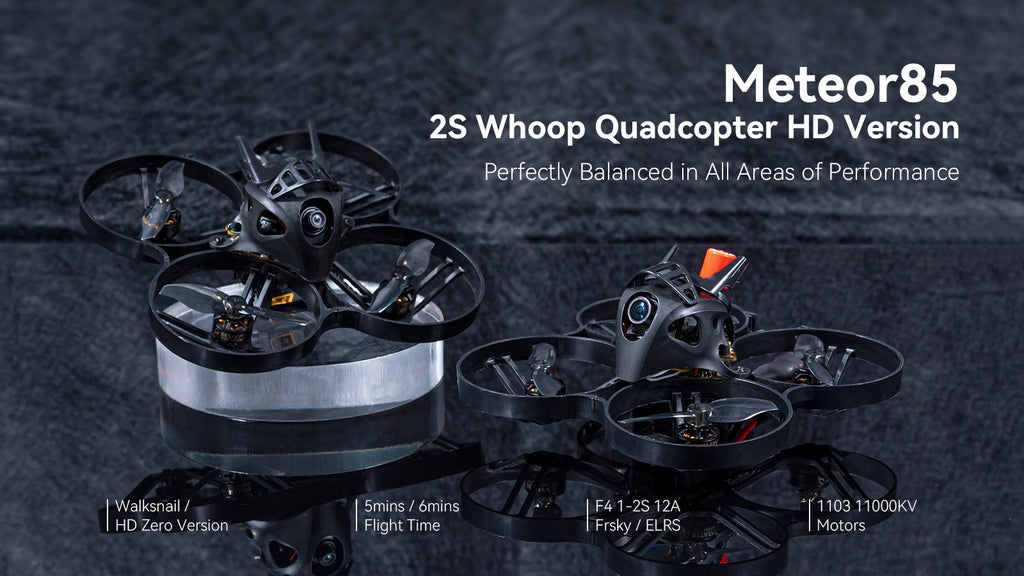 Bullet Point
Lightweight for 52.57g (Walksnail) and 48.30g (HDZero) whoop drone, this new 2S whoop drone with Walksnail HD VTX or HDZero VTX gives pilots an immersive flight experience and impactful visuals.
New frame

 

with the low profile of the battery slot, the drone's gravity center is reduced and improved the sense of compactness, perfectly enhancing the trust-to-weight ratio. It is durable and light enough, giving pilots a good balance of weight and a nice punch on a 2S battery.
Featuring an upgraded propulsion system and a larger capacity battery. Meteor85 uses

 

GF 2015 2-Blade props

 

with

 

1103 11000KV motors, which gives full play to the efficiency of the power. Combined with a

 

450mAh 2S battery, Metero85 can fly up to 6 mins (HDZero) and 5 mins (Walksnail).
Adopt with injection molding technique, this

 

canopy

 

is 2.50g ultralight weight and is more durable, anti-ruin, and heat-resistant, providing good protection for the whoop drone.
Reserve solder pads for the external receivers with UART1 and UART2 on

 

F4 1-2S 12A FC board. The SPI ELRS 2.4G and SPI Frsky version can be used as PNP quadcopter.
Specification
Item: Meteor85 Brushless Whoop Quadcopter (2S HD Digital VTX)
Flight Time: 6 mins (HDZero)/5 mins (Walksnail)
Camera Adjustable Angle: 0-45°
Motors: 1103 11000KV Motors
Battery: 450mAh 2S Battery
Frame:

 Meteor85 Brushless Whoop Frame

Propellers: Gemfan 2015 2-Blade Propellers
Weight Without Battery: 52.57g (Walksnail)/48.30g (HDZero)
Receiver: ELRS 2.4G, SPI Frsky
FC&ESC:

 F4 1-2S 12A FC (2022)

VTX Power Output: 350mW (Walksnail), 25mW/200mW (HDZero)
VTX: 1S Walksnail Avatar Mini HD VTX/HDZero Whoop Lite Bundle
Camera: Wanlksnail Avatar Nano Camera/HDZero Nano Lite Camera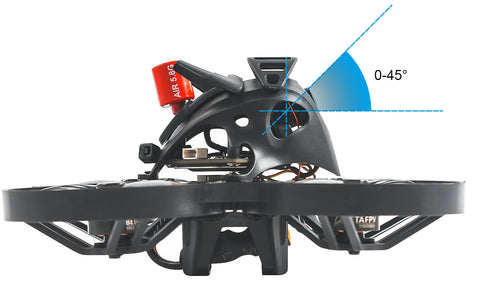 Meteor HD Series
BETAFPV has been optimizing and upgrading the Meteor series for better performance. Based on the Meteor Series, the Meteor85 (2S HD) and Meteor75 (1S HD) not only have good performance in power, speed and maneuverability but also provide high-definition images for pilots at the same time.
Meteor85 (HD)
Meteor75 (HD)
Frame

Meteor85 whoop frame

Meteor75 whoop frame

Power
2S
1S
Battery
450mAh 2S battery
BT2.0 450mAh 1S battery
FC
F4 1-2S 12A FC (2022)
F4 1S 5A FC (2022)
RX
SPI ELRS 2.4G, SPI Frsky
Serial ELRS 2.4G, SPI Frsky/PNP, TBS
Camera
Walksnail Camera or HDZero Camera

VTX
Walksnail Avatar Mini HD VTX or HDZero Whoop Lite Bundle

Flight Time
6 mins (HDZero) or 5 mins (Walksnail)

3.5 mins (HDZero) or 3 mins (Walksnail)

Used For

Acro, dive, power loop freestyle tricks, and outdoor flying
Freestyle tricks, indoor and outdoor flying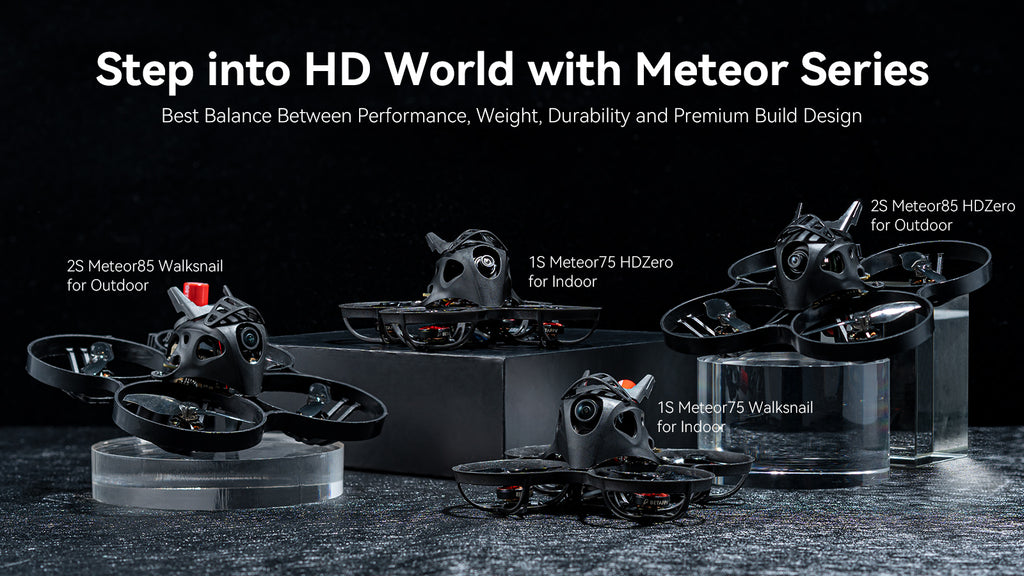 HD Digital VTX System

There are two HD versions to choose from. Based on Walksnail Avatar, the Walksnail Avatar Mini HD VTX also uses H.265 high-efficiency video coding, an industry-leading technology, providing 1080P/60FPS image recording with 22ms ultra-low latency. It is specially designed for 3.1-5V power input and 10g lightweight, which is compatible with Meteor85 whoop drone. Build-in 8 GB storage, the Avatar Mini HD VTX has the capability of recording HD video without interference from capacity and exporting video by USB cable. Besides, with Canvas Mode on Avatar Mini HD VTX, Betaflight full OSD display is supported and can be adjusted easily by remote control.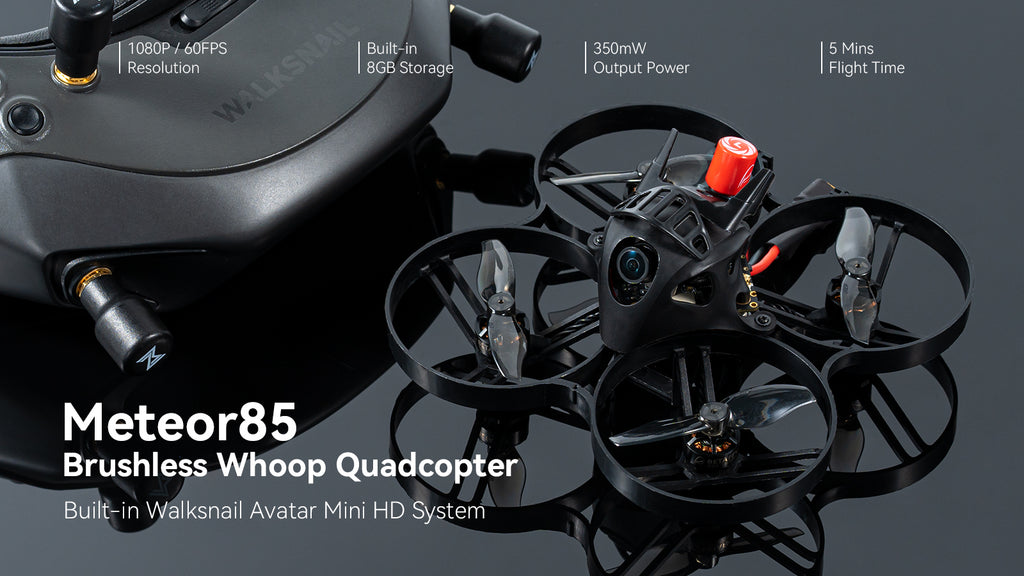 HDZero Nano Lite Camera is designed for feather-lite drones where every gram counts. At a weight as low as 1.5g, combined with the new Whoop Lite VTX at 4.5g with 0.4g dipole antenna enables a world's-first production digital FPV solution of about 7g. The HDZero Whoop lite Bundle supports 1-3S power input with 25mW/200mW RF power and is capable of recording in 720P/60FPS with super low latency of less than 19ms. What's more, pilots can activate and configure its OSD function on Betaflight Configurator.
Flight Controller
The latest F4 1-2S 12A flight controllers are applied to all BNF versions of Meteor85. Both SPI ELRS 2.4G and SPI Frsky can be used as PNP due to extra solder pads for the external receiver. The SPI Frsky version also can be switched to the Futaba SFHSS protocol through the Betaflight configurator. The ESC on the new board powered by BB51 hardware comes with Bluejay 48k ESC firmware, allowing 1103 11000KV motors to give full play to the efficiency of power. We update the gyro to BOSH BMI270 for better performance and stability since the new F4 1-2S 12A FC.
| | | |
| --- | --- | --- |
|   | Meteor85 HD (SPI ELRS 2.4G) | Meteor85 HD (SPI Frsky) |
| FC Inside | F4 1-2S 12A FC (SPI ELRS 2.4G) | F4 1-2S 12A FC (SPI Frsky) |
| Gyro | BMI270 | BMI270 |
| FC Firmware | BETAFPVF411SX1280 | BETAFPVF411RX |
Note: F4 1-2S 12A AIO SPI ELRS 2.4G comes with the default firmware betaflight_4.3.1_BETAFPVF4SX1280, which supports ELRS V2.0. ONLY the Betaflight firmware 4.3.0 and up start to support this BMI270 gyro. Please check the below link to download the firmware.
Download the firmware and CLI dump file for the F4 1-2S 12A FC ELRS or Frsky.
Motors & Propellers
Equipped with 1103 11000KV Brushless Motor and Gemfan 2015 2-blade props. 1103 motors are designed for 2S quadcopters with incredible power, smooth and quiet operation, and light enough. Meteor adopts 2015 2-blade props, which are lighter and durable enough, offering pilots a high-efficiency flight experience.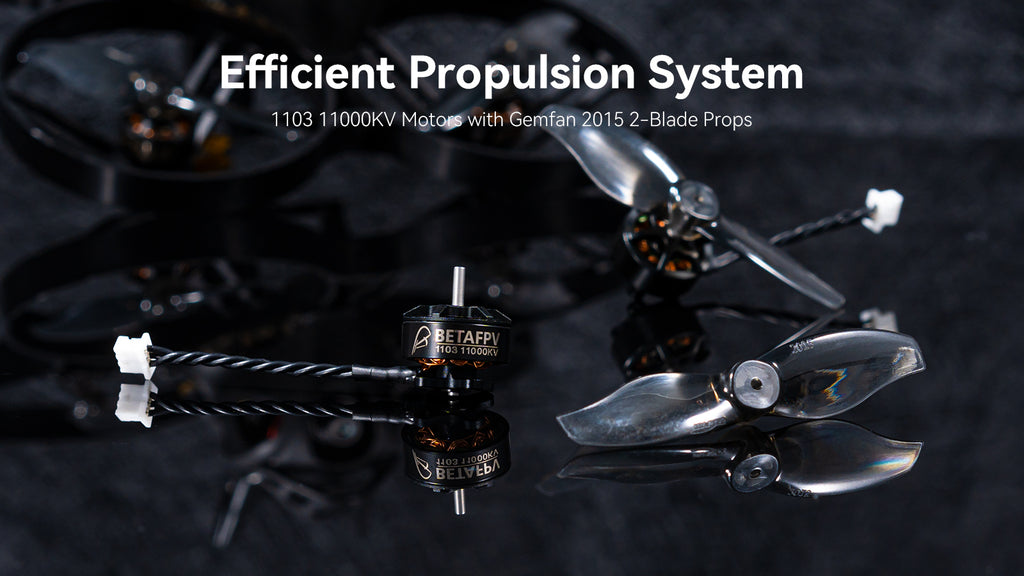 Injection Molded Canopy for HD Camera
Micro Canopy for HD Camera is specially designed to be compatible with Walksnail or HDZero HD digital VTX and has an adjustable camera lens of 0-45°. With the injection molding technique, the canopy is very durable and flexible for crash resistant. Besides, the hollow-out design not only reduces the influence of heat on electronic parts but also is available to be armed with decorative parts we prepared.


Props out
The Meteor85 drone comes with "props out" in default. Why do we need "props out" direction?
Default Betaflight props direction, quadcopter dips, and "washes out" in hard corners. With reversed props or "props out", no more dipping even in hardest cornering.
Know more about "Props Out".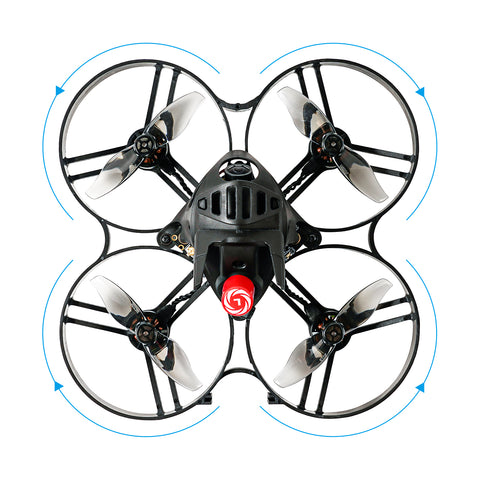 Recommend Parts
Radio Transmitter: LiteRadio 3 Pro, LiteRadio 3, LiteRadio 2 SE

Goggles: VR03 FPV Goggles, VR02 FPV Goggles

Battery: 450mAh 2S Battery

Props: Gemfan 2015 2-Blade Propellers

Frame:

 

Meteor85 Brushless Whoop Frame

Canopy:

 Micro Canopy for HD Camera

Sticker: BETAFPV Waterslide Decals
FAQ
Package
1 * Meteor85 Brushless Whoop Quadcopter (2S HD Digital VTX) ELRS 2.4G or SPI Frsky
1 *

 

450mAh 2S 45C Battery
1 * Type-C to SH1.0 Adapter
1 * SH1.0 Cable
3 * Decorative Parts
4 * Gemfan

 

2015 2-Blade Propellers
1 * Walksnail VTX USB Cable (For Walksnail Version)
1 * HDZero VTX Converter Cable (For HDZero Version)
1 * Pack of Screws
1 * User Manual